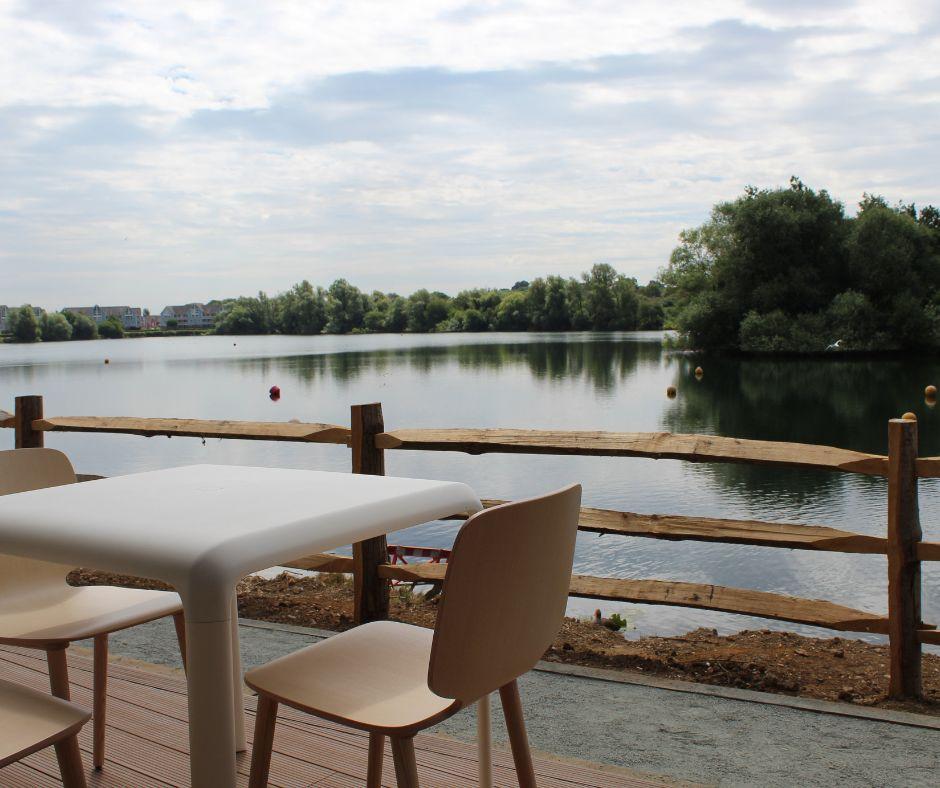 Leybourne Lakes venue features latest low carbon technology
Construction of a new café and watersports centre featuring the latest in low carbon technology has been completed at Leybourne Lakes Country Park.
The café, built by the park's owners Tonbridge and Malling Borough Council, will offer a warm welcome to visitors by drawing energy for heating from the nearby lake using the latest heat pump technology. It also features solar panels to provide electricity.
Due to open to the public on Friday 15 July, the café will be operated by the council's leisure trust partners, tmactive. It will offer an all weather venue for visitors to take in views across the lake while enjoying a range of hot and cold drinks and snacks.
The watersports centre, which previously operated from a shipping container on the banks of the lake, will also see a marked improvement in facilities. These include a purpose built office, changing cubicles, lockers and toilets.
The new building cost approximately £880,000 to construct. Around 90 per cent of the costs were met by developer contributions paid to the council under what are known as Section 106 payments. The payments are made to offset the impact of major building projects elsewhere in the borough by funding community improvements.
At a ceremony on 13 July to mark the building's handover to tmactive, Cllr Des Keers, the council's cabinet member for community services, said: 'Visitors to the park have wanted a purpose built café for many years so I'm delighted we've finally been able to deliver one and also in such an environmentally friendly and cost effective way. Whether you're a walker or a watersports enthusiast, this is a major boost to the appeal of the park and one I know that tmactive will make a huge success.'
Martin Guyton, Chief Executive of tmactive, said: 'The new facility is going to be an invaluable resource for park visitors and we're delighted to be managing it on behalf of the council. We look forward to providing a good quality catering service in the café which will be open from 9am to 5pm, 364 days a year. As well as offering a delicious menu for adults and juniors alike, there will be tasty options for canine visitors too!'